Being invited to a wedding means getting an event to dress up and have fun at, meeting friends and new people, and having a great time altogether. There are so many things that you need to select for the day that would make you look great without overpowering the bride. As a guest, you need to get a dress that would make you look stunning and at the same time comfortable to enjoy the reception. You need to keep the venue into consideration and the season before you decide on the look. After the dress, you need to look for the makeup look that would be ideal for the wedding. We have made this task a bit easier for you by providing you with a list of makeup ideas you can use as a wedding guest.
1: Classic Red Lip
One can never go wrong with red lipstick. Red lips and light eye shades are classic looks that can be used for all different kinds of events. You can go for this look for an elegant and classy look. You need to use nude or neutral shades of eyeshadow along with nice eyeliner and mascara. Get your favorite red lipstick and complete the look. Keep the base flawless to make your makeup perfect.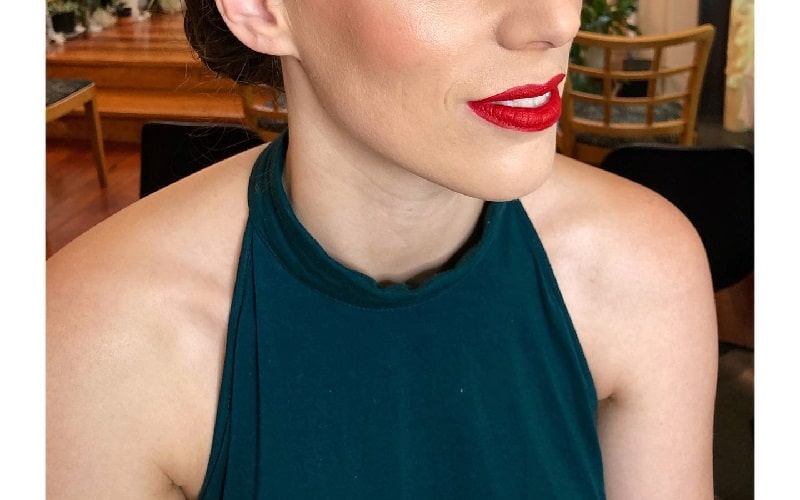 2: Monochromatic
A monochromatic look is chic and elegant and goes well with heavy or bright dresses. You need to use the nude shade of lips as well as eye makeup. This look with making the dress the focal point and would balance the look. The monochromatic color of your makeup would go well with the bright color of your dress. This is a glam look. You can add a highlighter and bronzer to the look to add more shine. Keep the base flawless.
3: Siren Eyes, Brown Lips
Siren eyes are the latest trend when it comes to makeup trends among fashion enthusiasts. This is a remake that provides you with a glamorous mysterious vibe and makes you look stunning. This is one of the looks that many celebrities are adorning nowadays and you can look trendy and stunning as a wedding guest with this look. Go for a brown or nude lipstick for this as the eyes are the focal point of the makeup here.
4: Shimmer and Glitter
What is a wedding without shimmer and glitter? Let go of simple or matte looks when you can go with the shimmer and glitter. Use shimmer on the eyes or even rhinestones that are super trendy nowadays to complete the look. You can also go for glossy lips instead of a matter look for the party. There are so many ways you can incorporate shimmer into your makeup look for the party. All you need to know is the venue and theme to go with the right kind of shimmer and glitter for the party. You can even go for shiny hair accessories.
5: Soft Glam
Soft glam provides a soft and elegant look. This is the look where you need to make a flawless base along with soft features such as light and rosy eyeshadows with cute and elegant liner. You can use a nice amount of blush to add that rosy and soft look to your cheeks. Go for pink lips in this look. This is a cute look to go for any spring or summer wedding. You need to make your hair related to this look. Flushed cheeks, subtle tones, soft makeup, and a little bit of highlighter are the things used in this look.
These are some of the looks you can go for when you are looking for makeup ideas for a wedding. The main aim of makeup is to create a clean and stunning appearance, enhancing the features, making you look great in the photos, and also natural to the people around you. It is to make sure that your look is nice and flawless and that the makeup is not cakey or thick on the skin. The season, theme, and venue decide what kind of look you can go for. Glam up for the event and look stunning. Enjoy your time at the wedding.
https://urbanategirl.com/wp-content/uploads/2023/02/Makeup-Ideas-For-Wedding-Guests.jpg
500
800
chinal
https://urbanategirl.com/wp-content/uploads/2019/09/urbanategirl-logo-300x86.png
chinal
2023-02-13 10:06:05
2023-02-14 05:58:32
Makeup Ideas For Wedding Guests