There are many scrubs available in the market that you can use to get that healthy and smooth skin and exfoliate the skin and get rid of dead skin cells. Although there is no harm in using fancy ones you can always make some at your house with all the ingredients that are easy to avail. There is a great sense of contentment that you get when you are making your body scrub with the ingredients that would provide your body with the nutrients that you need. There are ingredients that you can add to a scrub to address a certain problem. This is also on a budget and thus you can get the scrub with great ingredients and no chemicals and can add to the skincare.
1: Strawberry and Coconut Scrub
Rich in antioxidants and vitamin c strawberry is a great ingredient to create a body scrub with. This is not only useful in boosting collagen production and repairing and growing new tissues but it also is gentle and thus good for soft and sensitive skin. It provides a natural fragrance that can act as a deodorant too. You need to add coconut milk so that the skin is hydrated and moisturized as well. Add oats or raw sugar to add to the roughness of the scrub to exfoliate the skin properly.
2: Chickpea Flour Scrub
Chickpea flour is a great exfoliator and can be used to remove bacteria and other impurities from the skin. Add apple cider vinegar to the flour to make a paste. This apple cider vinegar contains antibacterial properties and also has malic acid which is a great exfoliant that could help exfoliate the skin. Add peppermint to remove bacteria from the skin. Mix everything and apply it to the skin. Scrub properly and rinse afterward.
3: Juniper Berries Scrub
Juniper berries have hydrating properties that help in the reduction of water retention and at the same time can get rid of excess salt or water in the body. You can mix juniper berries, grapefruit, sugar, coconut oil, and lavender in a bowl and apply it to your skin. This juniper and grapefruit remove puffiness and lavender helps with inflammation and can reduce swelling. You can even use a gua sha tool and use to massage the scrub on the skin to boost its effect.
4: Sea Salt and Green Clay
This scrub is also known as the mermaid scrub. This is a beautiful scrub because of its color. You get a stunning green hue that makes it look like the ocean. Here in this scrub, you use sea salt, Epsom salt, oil, french green clay, spirulina powder, and essential oil. These ingredients have benefits that make your skin glow and healthy. Salts help in exfoliating the skin and relieving tension, they also help in blood flow. The spirulina helps in keeping moisture and fighting radicals and also provides shade to the scrub.
5: Citrus Scrub
In cold seasons when your skin feels dry, when the weather is gloomy that time it is a must to provide your skin with elements at would make it look good and also makes you feel refreshed. You can get the tropical feel with this scrub. Add sea salt with sugar, lemon, papaya, and essential oils, and apply it to your body. Scrub it to exfoliate the skin and provide it with a refreshing tropical and citrusy aroma. This improves the skin and also helps in blood circulation.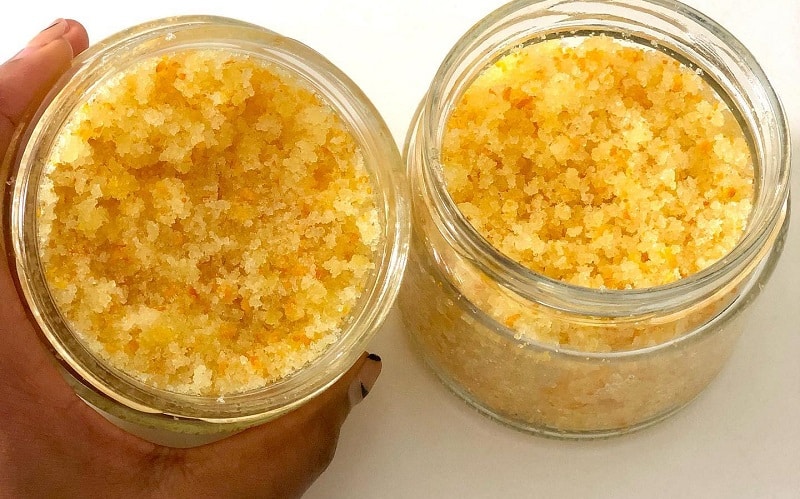 These are some of the great ways you can have chemical-free scrubs that would make your skin healthier and that you can add to the skincare routine. It is important to take care of the skin and keep it hydrated. There are so many ways you can add nutrients to the skin and make it glowing and healthy. Make sure to always moisturize the skin after you scrub and if you have any skin issues then get professional help and get to know how and what can you do to scrub and if it would affect your skin. Patch test first to see any allergic reactions and then apply the entire product on your skin and exfoliate it.
https://urbanategirl.com/wp-content/uploads/2023/02/Homemade-Scrubs-For-a-Smooth-Skin.jpg
495
800
chinal
https://urbanategirl.com/wp-content/uploads/2019/09/urbanategirl-logo-300x86.png
chinal
2023-02-15 04:47:34
2023-02-15 12:43:02
Homemade Scrubs For a Smooth Skin