The way we dress up greatly influences the way we appear, which is why it's extremely important to dress up in a certain scheme that can flatter our body type in the most amazing way. And when it comes to women who are chubbier on side often struggles with finding a perfect piece for themselves that actually can work in their favor and make them look slimmer. However, by implementing a few changes to your clothing style you can definitely make them work in your favor which can further help you look slimmer and taller as well. All you need are some hacks rolled up your sleeves and you are good to go. Keep on reading to know about all the tips and tricks.
1. Black is your best friend
The ever classic black color is considered to be the smartest choice for all the women out there who want to make their silhouette appear thinner. This one color will never fail to disappoint you and will always work in your favor no matter what clothing piece you are wearing. The more the black, the slimmer you will appear. Black colored outfits hold the tendency to give your silhouette a very slim appearance and which is why they always work in your favor. To make your outfit to be more effective, opt for a monochromatic look and you will never be let down with the results.
2. You can swear by vertical patterns
Vertical patterns not only help you to look taller but also help you in giving your silhouette a slim appearance. They help in creating an elongated body frame which further helps in making you look slimmer and taller. With that, make sure that the pattern isn't too bold or else it will draw unnecessary attention towards the larger part of your body. And when these prints come with deep v neckline then that's a win-win situation for you as such necklines also help in doing the job.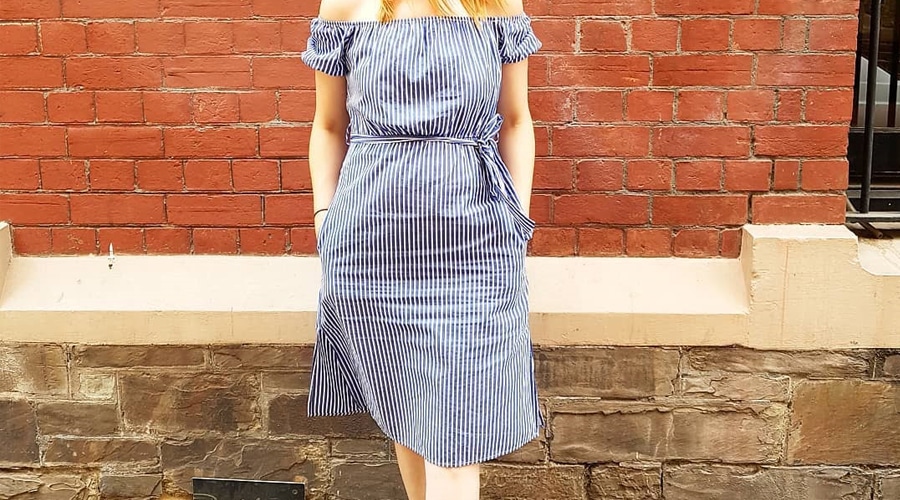 3. Shapewear can do the job
It's time you invest in a nice shapewear for yourself. And trust us when we say you will never be let down with its results as shapewear work very effectively for such body frames. They basically tame the body fat around a certain region such as thighs, hips and midriff area which further helps in giving you a slimmer appearance. So what are you waiting for? Go ahead and buy yourself a perfect piece of shapewear.
4. V neck will work in your favor
We have stated this earlier and we are going to say it again that v neckline always works in your favor. They help in creating an illusion of elongated body height whilst giving your silhouette a slimmer appearance. This trick especially come handy for people who have a double chin, it helps to make your neckline appear slimmer and also draws attention from your neck to your chest. Opt for shirts and tops that come with deep necklines and you will never regret buying those pieces.
5. Invest in high rise jeans
High rise jeans can prove to be one of the best purchases for you. They might be taken as a riskier choice but if worn correctly, can do wonders for your body frame. They tend to give your body an elongated look which further helps in creating an illusion of slim, slender and taller body frame. Jeans that hit just above your belly button, which are slim fit and ends near your ankles are considered to be the perfect choice for you. They basically conceal and tuck in those tummy bulges with their high rise positioning. Make sure not to opt for super high waist jeans as they won't work in your favor.
https://urbanategirl.com/wp-content/uploads/2019/11/slimgirlstyle.jpg
800
1100
admin
https://urbanategirl.com/wp-content/uploads/2019/09/urbanategirl-logo-300x86.png
admin
2019-12-05 08:20:32
2019-11-12 09:46:49
CLOTHING TIPS AND TRICKS THAT CAN MAKE YOU LOOK SLIMMER