An outfit without jewelry (especially necklaces) is equivalent to food without taste and flavors, BLAND. A simple piece of jewelry can make a world of difference to your outfit, and when it comes to dainty or statement-making necklaces, they take your fashion game to another level and add that wow factor to your look. You can never have too many necklaces in your jewelry arsenal, and given the fact that necklaces come in an array of styles, designs, and materials, women are bound to have them in abundance.
Of all the jewelry pieces, necklaces are the most fun to play around and experiment with. You can easily make even the simplest outfit look more elevated and chic by adorning it with a dainty necklace. Similarly, you can increase the oomph factor of your powerful outfit by sporting it with a statement-making necklace. To put it simply, necklaces are a sure-shot way to add more interest and personality to your look, no matter the outfit.
If you consider yourself a necklace person or just like hoarding jewelry pieces of different styles, we have got a bunch of necklace trends for you that will be everywhere this year (2021).
Extra-large links
Seems like the chain-link necklace trend isn't going anywhere anytime soon. Chain link necklaces have been trending for a while, and they somehow always manage to remain in headlines for one reason or another. Just like the fashion lot, we can't seem to get enough of these link necklaces. The links are only getting bigger and better this year; you can make such a stylish and powerful statement with extra-large link chain necklaces.
Lariat necklaces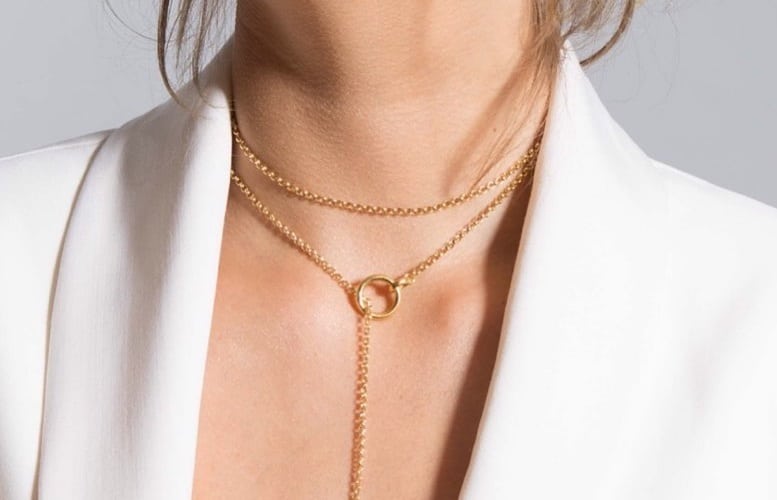 If you have ever been a fan of lariat necklaces, then you have a reason to rejoice as lariat necklaces are making a comeback this year. It's been really long since lariat necklaces last made an appearance, but this year, they are back again with a bang. Lariat necklaces have been given a chic upgrade this year. Unlike their previous dainty versions, lariat necklaces this year feature pretty beads and bold chains for a more elevated and chicer look. You can sport these lariat necklaces with every outfit of yours; they will add so much visual interest to your look.
Herringbone chains
Classic gold chains are one of the easiest ways to add some flair to your look. And if you like adorning your outfits with such simple and sophisticated necklaces, then you should definitely invest in some herringbone chains. Herringbone chains are simple yet eye-catching; they can instantly elevate your outfit and make it appear more stylish and put-together. You can either wear it solo or stacked with other dainty necklaces with your outfits. No matter how you choose to wear it, the herringbone chain always tends to look expensive.
Malachite
Necklaces featuring the very beautiful and stunning emerald-colored stone, i.e., malachite, not only help add a pop of color to the look but also level up the style quotient of your outfit. Malachite necklaces fall more on the sophisticated side, and they also tend to look quite expensive. These necklaces can dress up your outfits in the most effortless way. You can spot them in an array of stunning iterations, go with the one that speaks to you or is more your style.
Charm necklaces
Charm necklaces are yet another throwback trend that is back in the game this year. You can expect to spot them in an upgraded look that looks no short of chic and stylish. Gold chains featuring pearls, stones, and letter pendants will make great additions to your jewelry box; you can literally mix and match them with other gold necklaces for a more elevated look.
https://urbanategirl.com/wp-content/uploads/2021/06/5ue7ruwe5rsh.jpg
500
800
admin
https://urbanategirl.com/wp-content/uploads/2019/09/urbanategirl-logo-300x86.png
admin
2021-07-13 04:32:59
2021-07-06 05:57:24
Exciting necklace trends that will be everywhere in 2021