Eyebrows are one of the most prominent features on our face and if they are done the right way, they can work favorably for our looks and make our face appear more defined and attractive. They are possibly the only thing you can get in shape without needing to exercise, it's important that you have them in the right shape so that you don't do any beauty blunder. Taking care of your brows, keeping them in shape and nicely filled in is something that requires a lot of effort; basically it's not that easy. While you may have mastered the art of doing wing eyeliner or contouring your face, but when it comes to your brow, things can get a little too tricky. Today, there are many high-end techniques and treatments you can rely on to keep your brows on fleek all day every day, such as microblading, but that can be quite expensive.
However, there are certain mistakes that many women tend to make with their brows and that can easily pull their look down making them look old or strange. To make sure that you're not making the same mistakes with your brows, take a scroll through the article where we have listed some not so common eyebrow mistakes and how you can correct them to keep them looking on fleek.
Shaping them too thin

Thin eyebrows used to be a thing in the 90s but as we speak of the present day, they are one of the biggest beauty blunders any woman could make as they are not only out of the trend but are also the most unflattering thing you could try right now. Thin brows do nothing for your look, in fact, they may bring your whole look down, which we are assuming you wouldn't want to deal with. Therefore, if you are one of those many girls who still believe that thin brows are still a thing, then my dear friend it's time you get a reality check and embrace fuller and more flattering brows.
Filling them too dark
The key to acing the perfect eyebrows is filling them the right way and make them look as natural as you can. The objective of filling our brows is to make them natural and not made up and that's exactly why you need to look for eyebrow products in one shade lighter than your natural hair color. Your brows are one of the best features of your face, and you should make them work favorably for your face and not to overpower your facial features. Going too dark with your brows is only going to make them look fake and unappealing, which is why you need to be very careful of the products you are purchasing and know the right technique to fill the brows.
Using a magnifying mirror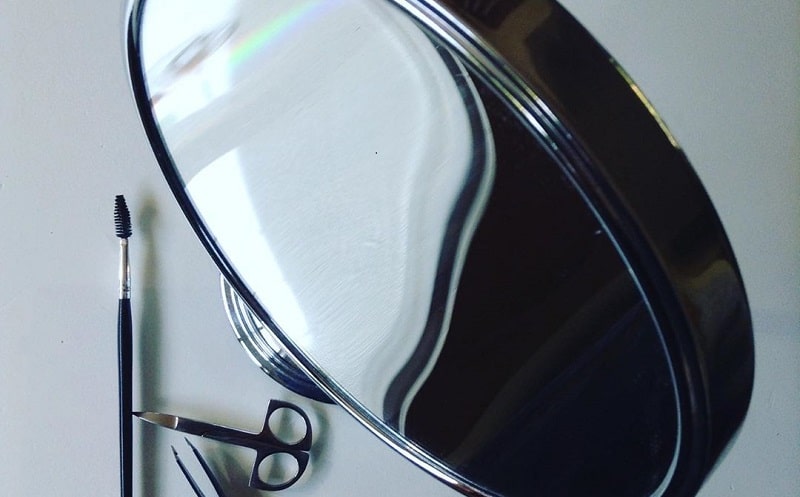 Yes, your mirror too plays an important role here but that has nothing to do about the way you fill your brows in fact, it's about how you are taking care of them. Tweezing extra hair that grows back in and around the eyebrow area helps in keeping them look nice and defined but the kind of mirror you're using at this time really matters here. Doing all that tweezing in front of magnifying mirrors can easily mess up the shape of your brows as it's not possible to get the right proportions when you are looking at your face so closely. Wall mirrors are your safest bet and try to exercise this in as much natural lighting as you can.
Adding lots of highlighters

Adding a pop of highlighter to your brow bones is a great way to accentuate your brows but we would not advise you to go overboard with this whole highlighter thing as that can work negatively for your look. Apply the highlighter in a gentle motion using a flat brush underneath your brows. Sweep the brush in back and forth motion and you'll notice how your face is looking lifted and your brows striking.
Applying makeup products on your brows
Intentionally or unintentionally, applying makeup products such as face creams, foundation, gel, sunscreen on your brows can work against them. Allowing the product to settle on your brows can damage them and that can result in your brow hair falling out as well as no hair growth. Therefore, we would suggest you to be extremely careful while applying any product on your face especially around the brow area. Massage your brows with castor oil, olive oil, coconut oil or aloe vera, to promote hair growth if you've scanty eyebrows.
https://urbanategirl.com/wp-content/uploads/2020/03/90320847_534259590839885_7568569796148286732_n-1.jpg
500
800
mode 2
https://urbanategirl.com/wp-content/uploads/2019/09/urbanategirl-logo-300x86.png
mode 2
2020-02-26 06:53:31
2020-05-12 10:44:56
Eyebrow mistakes you need to stop making RN!