Some girls have the advantage of flaunting the most exquisite pieces in clothing because they are naturally tall and that actually adds to the overall beauty and personality of a person. We have observed the fact that if there was one thing that most girls wanted to be was to be taller than they are. This is because when you are tall, you tend to look slimmer and sleek. No matter what your body type is-petite or bulky, with a tall structure, you are bound to look smarter than others. This adds that factor of being a bit more tad stylish than others. But we have a solution to everything. If you wish to look taller, here are some genius hacks that will help you create a likewise situation. Have a look!
Go for pinstripes
Pinstripes are nothing but vertical stripes and that is why this is a must pick for all those girls who wish to look taller than they are. There are so many ways to ace this look and vertical trousers is one of them. One of the best ways to not overdo this trend and still look classy is to pick a pair of vertically patterned trousers because they will make you look slimmer and taller. It is the way these pinstripes have been curated that makes them so extravagant. They are a definite yes as they naturally add length to your body structure thus, making you look taller. You can also go for detailing as paper bag belts, front pleats, and vertical zippers to this elongated illusion.
Pick V-Necklines
Another way to make your body look elongated is to pick V-necklines for some of your dresses. These V-necklines are nothing but an extended version of the upper you are wearing. This top or blouse design in V-neck design will make your neck look taller and this illusion is something you would love to flaunt. If you do not shy away from skin show, then you can pick a V-neck as deep as you want as it will add more length to your torso. On the other hand, do not make rookie mistakes of wearing scoop necks, crew necks or wide necklines as they will only make you look broader and bulky.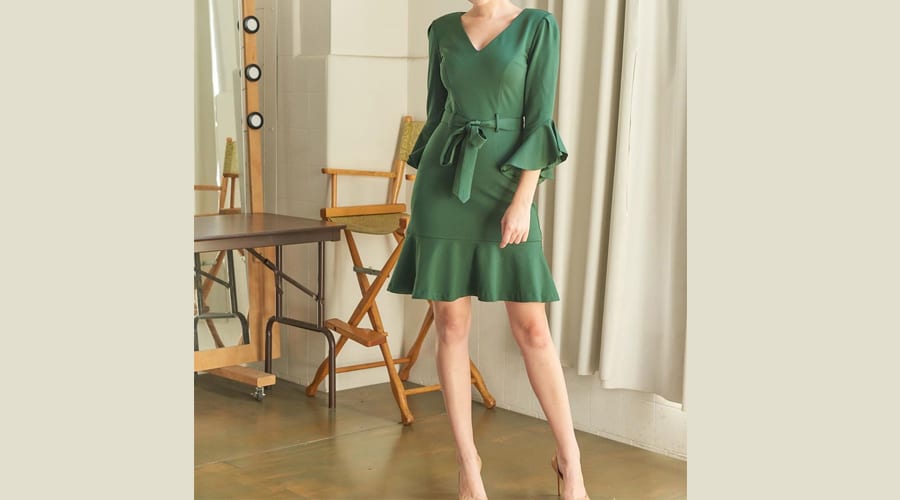 A-line Silhouette is a good option
As the name suggests, any kind of apparel whose hemline ends in an A-line style is bound to make you look taller and slimmer. This is because any kind of A-line silhouette sticks to your body throughout but flares up at the bottom area. So, in such a case, this fitted dress looks perfect on the entire body and showcases your figure but lengthens and adds volume to the bottom part. You must pick the perfectly fitted A-line dress for yourself to look taller. On the contrary, it is important to understand that there is a difference between an A-line silhouette and loose and flowy clothing. The latter might not be the best option to look taller. It would make you look chubbier and shorter.
High-waists, obviously!
The best way to add to the elongated structure is to wear high-waist jeans and trousers. Anything high waist can look sexy and stunning and will also make you look taller than you are. You can easily ditch those low waist and mid-waist pants now because they are not even in the trending count now. You must pick these high waist silhouettes in skirts and shorts too as they can add an extra length to your legs. Such elongated legs give an illusion of extra inches to your look. Pick them in any color you like and set out to conquer the world.
Tucked-in attires
Tuck-in attires are the sexiest outfits you can pick for yourself. The thing about tuck-ins is that they can help you pull off a fancy silhouette by simply tucking in a minimalistic tee. This is actually magical and is one of the best ways to add to the overall elongation. Wear your formal shirts, as well as fancy satin blouses, tucked in at the waist to make yourself look taller. If you want to go a bit edgy with this look, you can also tuck in from the front alone. Leave it flowy from the back. You can also pick short tops to show a little of your stomach to give an illusion of elongation.
https://urbanategirl.com/wp-content/uploads/2020/01/tallgirls.jpg
800
1100
admin
https://urbanategirl.com/wp-content/uploads/2019/09/urbanategirl-logo-300x86.png
admin
2020-01-12 12:44:31
2020-01-11 13:12:00
Genius Hacks to make you look taller than you are!