Animal prints always add spice to an outfit and make you stand out of the crowd. Although they are just prints, they still have the capacity to blow everyone's mind because of the vibe that comes with them. Tiger prints, leopard prints, bird prints, and zebra prints are the most sold ones. So today we are here to talk about the famous and vintage style ZEBRA PRINTS and how they can alter you look completely when styled the right way. They are a simple black and white combination of stripes, wavy lines or blocks and we all know how wonderfully the BNW contrast works. It will instantly brighten up your outfit with its bold features. So you can pair them with anything neutral and bright.
We've listed a couple of tips as to how you can wear this exclusive zebra print and slay all the way!
ADD A DASH OF COLOR
The look of a zebra print is very classic and mainstream because it is black and white. But still, it is eye-catching because of its bold features as we said before. When you look at someone wearing a combination of these two basic colors, you instantly relate it to being so cool. This is because these two colors go virtually with everything!! Having that neutral undertone, the zebra print can be clubbed with bright colors to create a transition.
For a night outing, pair a zebra shirt with a pencil-fit skirt and sequin pumps. On the contrary, you can also go for a zebra skirt and pair it with a satin or silk blouse in bright hues for elegant parties.

For a lunch scene with your girl squad, you can go for skinny jeans and colorful beaded accessory around the neck to create color contrast.

Another option is to pick pastel pants like mint or lilac and pair with zebra shirts for a stylish summer look.

You just need to add dash of colors to your zebra outfit and the combination will turn out to be heavenly.
KEEP IT NEUTRAL
When in doubt, pick neutrals. Neutral shades account for light shades on the color wheel that doesn't demand much effort in styling. They are the safest options to pick when there is confusion in your mind. Zebra print itself comes with a very bold feature so pairing it with a light-colored skirt or shorts is never a flop show. Moreover, they are also a time-saver when you don't have the capacity to mix-match outfits.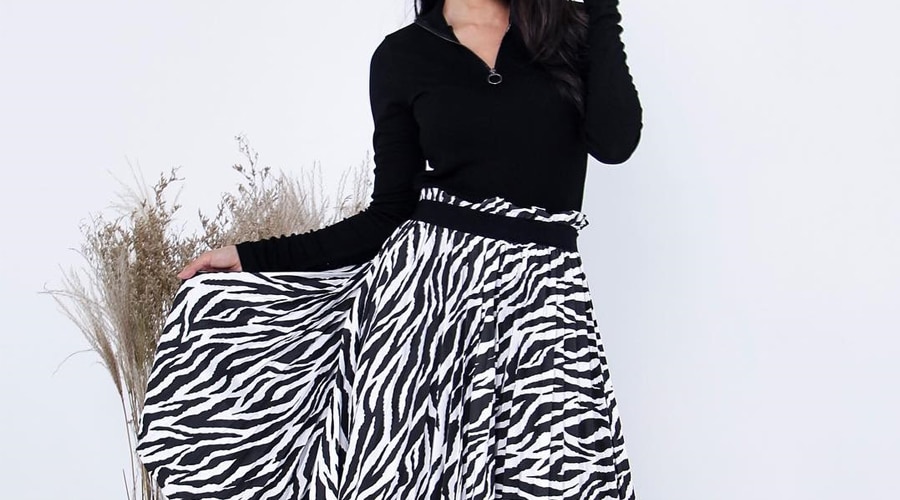 A striped sweater in zebra print can be paired with paper-bag trousers and strappy sandals on a sunny day in fall season. Wear a headscarf for a sultry look.

When you want to flaunt this print at work, wear a tight skirt or jeggings with it. You can also carry a cream or nude color overcoat with it.

One of the coolest ways to style it casually is to pick your flared jeans, wear a tank top and a zebra pullover on it falling down on one shoulder. Statement sneakers will look best with it.

You can opt for muted versions of green and purple too and style them judiciously.
KEEP YOUR CURVES IN MIND
Whether you pick zebra print for your upper wear or bottom wear, it has the ability to highlight that part of your body. So whatever garment you're choosing, first keep in mind which part of your body you want in the limelight. Because it will add volume to that part. It could be your long legs or that narrow waistline. Then choose accordingly-
If you have a short height, then pick smaller prints or vertical lines in zebra design. Wear a fitted dress or trousers with stripes to look taller.

If you're bulky, we recommend not to leap directly into zebra skirts or dresses. Go for subtle formal shirts and also add suitable accessories.

This balance is really important because as versatile as this one looks, it can turn you into a clown really quick.
ZEBRA FOOTWEAR-HELL YES!
All those who are totally obsessed with shoes, you will pick this we know it. Just when you thought the vogue of zebra print was only limited till clothing, shoes came running in! They are the ultimate pick for all those who love to experiment and want to look unique every time. If you aren't sure what to style with zebra footwear, we'll tell you.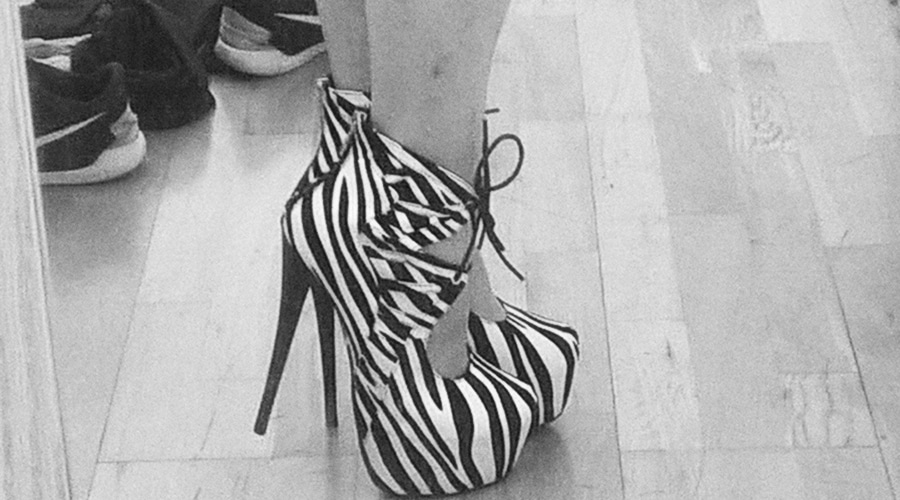 These shoes definitely bring in a chic vibe to your outfit when paired with an all-black dress. Pretty ballerinas or pumps in zebra print take our heart away every time.

They can also be picked in Chelsea boot style or flats if that makes you feel comfortable.
You must tick this one off your list this year as the biggest fashion trend.
https://urbanategirl.com/wp-content/uploads/2019/09/featurezebra.jpg
800
1100
admin
https://urbanategirl.com/wp-content/uploads/2019/09/urbanategirl-logo-300x86.png
admin
2019-06-30 06:52:31
2019-09-16 09:45:30
HOW TO WEAR ZEBRA PRINT LIKE A PRO