Are ready to go for Valentine's date night? But have you got your outfit ready? If your answer is No, then we got you covered. As we all know it is a very special day and we all want to look amazing on this day. You can have a look at the options that you can consider wearing on date night. Also, we all know it is just getting so much on the reds on valentine's day and that is the reason why we will not talk about the reds in this blog.
Beyond these looks, you can even consider other options when it comes to going for Valentine's date. Hence, here are some of the ideas for Outfits to wear to ace Valentine's date night and you will definitely make the person go crazy.
Lace dress
The lace dress is one of the most common yet graceful outfits for Valentine's. Also, you can make sure to go for the perfect kind of lace dress of any color you want. A lace dress can be the best option and that is why it is on the top. If you are really into laces then this can be your outfit for Valentine's date night. You can also go for the lacy top along with a suit and will definitely not look formal. It is basically upon you how you want to dress on your date but lace is definitely a great option.
Off-shoulder dress
Off-shoulder dress is also one of a kind when it comes to getting the most astonishing look on a date. You can even get the perfection in this look if you go for the statement choker along with this. If you are comfortable in showing off your skin then this is the perfect kind of dress for you and moreover when it comes to going for the best outfit for the date night then there is no better option than an off-shoulder dress or a top. It will definitely give you a top-notch look and hence, you can go for the best looking off-shoulder dress or a top.
Sweater dress
If you are living in a city that has cooler nights then you can definitely opt for this kind of dress that is a sweater dress. And to be precise, you can even go for the off-shoulder kind of dress when you are looking for the best kind of dress for the valentine's dress. Also, you can make sure to add a little bit of accessory to the look, and also along with that you can go for the perfect kind of shoes that will match the vibe of the sweater dress. That is the reason why you must go for the sweater dress if you want to ace the date night.
Silk Blouse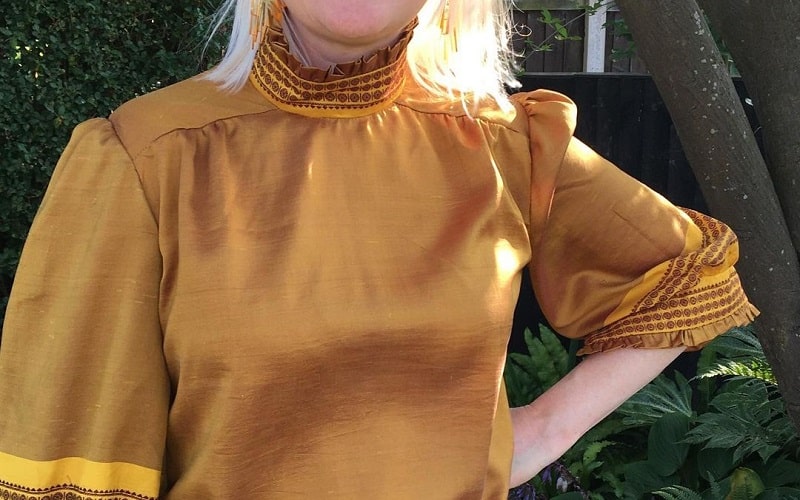 If you are looking to wear something that is a game-changer, then a fancy blouse can really be your cup of tea. These silk blouses instantly transform a casual outfit into something more romantic, subtle, classic, and feminine. If you have a silk blouse, you can try wearing it with a pair of jeans or plain trousers for date night! You can also go for the classic plain silk blouse that will look cute with the beige trousers. Moreover, the look you are trying is definitely super easy, comfortable, and stylish and you feel the chic vibes with this at the same time. It can be your date-night outfit if you are willing to ace it like a queen.
Floral dress
A floral dress is a cute, stylish, and most importantly chic dress to wear on date night. Also, this kind of floral dress is a staple in the wardrobe of any woman and also, it will give the perfect look to the woman who is wearing it. You can even go for the jacket over the dress to get complete and also you can pair it up with the cute hoops and heels, and there you are with the best-looking valentine's outfit. Moreover, if you to embrace the summer-spring vibes from the dress, then this is the perfect option for you.
Thus, these were the dresses and the outfits that you go for the date night. And also, there are many other options as well but these are the best ones. You can even go for these on the normal dates, as it will give you a perfect look on every day OOTD as well.
https://urbanategirl.com/wp-content/uploads/2021/10/149873615_141643644389368_6985540284708917436_n.jpg
500
800
karan n
https://urbanategirl.com/wp-content/uploads/2019/09/urbanategirl-logo-300x86.png
karan n
2022-06-08 08:10:04
2021-10-12 09:39:04
Outfits to wear to ace the Valentines date night