Given the kind of year we have had, a beach vacation just sounds the perfect way to unwind and de-stress from busy life. And since summer is just on its way, there could be no better time to plan a beach vacay than right now. Just the idea of lounging on the beach and sipping Pina Coladas is making us feel so much better; one can only imagine what it would do when we are actually on a vacation. And when it comes to packing for your vacation, while bikinis would always be on the top of your mind, don't forget to pack your essential beauty products, including makeup and skincare products.
That said, beauty products aren't just about skincare and makeup products, your hair care products are also a very much part of this category. It's a very well-known fact that our hair receives the minimum amount of attention as compared to the skin, but if you want your hair to look gorgeous, healthy, and manageable on your beach vacay, then it's important to tend to its needs, and for that, you will need a couple of hair care products. Also, exposing your hair to a lot of moisture tends to break down the hydrogen bonds in your hair, causing it to swell and dry. But you can easily prevent that by bringing along a few nourishing hair care products with you.
Shampoo and conditioner
Let's start with the basics first. Shampoo and conditioner are two basic yet essential hair care products, you don't even need to be reminded of bringing these products along with you, but we are reminding you anyway. But what's more important than bringing a shampoo and conditioner duo is to choose the right products. Considering the environment on the beach tends to be a bit different than what's it's like in the cities, you may need a different combo of shampoo and conditioner. Pick the products that will help add moisture back into your hair while slightly boosting the shine and bounce as well.
Leave-in conditioner
The next product on the list is a leave-in conditioner; this product is pretty self-explanatory in itself. Unlike your regular conditioner, this product isn't supposed to be rinsed with water; you are supposed to leave it on your hair till your next hair wash. It won't only help to condition the length and ends of your hair but will also offer protection to your mane against the harmful effects of saltwater and sun exposure by creating a protective layer on your strand.
Heat protectant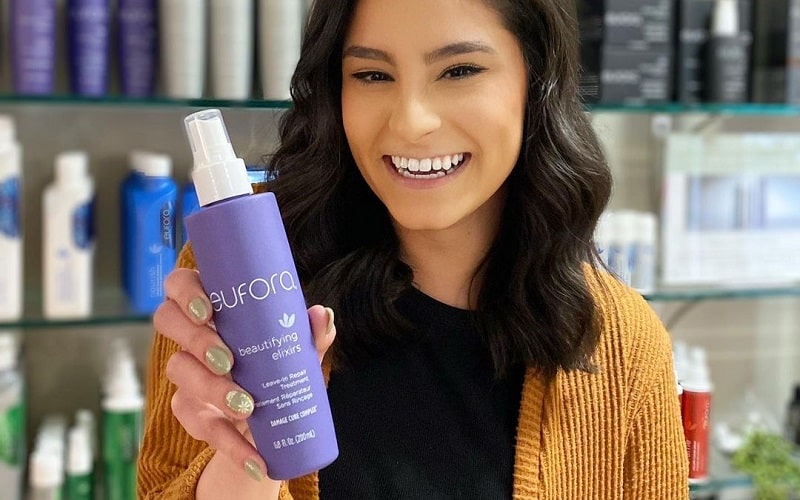 Whether or not you are planning to use heat styling tools on your beach vacation, it's always a good idea to carry a heat protectant spray. Considering the sun tends to be pretty harsh on the beach, which isn't only harmful to your skin but hair as well, you should offer some protection to your mane. This is where a heat protectant spray comes into the picture. Apart from protecting your hair from heat damage caused due to heat-styling tools, it will also help offer protection to your locks from the harsh sun rays.
Frizz control serum
Remember when we said the environment on the beach tends to be slightly different than the cities? The high humidity level is what we meant. Excessive humidity can bring out the nastier side of your hair; it can make your mane look frizzy and unmanageable. Want to know how to prevent this annoying problem? A frizz control serum is all you need. Pick the product in a lightweight and non-greasy formula. You can use it post washing your hair and whenever your hair looks unmanageable and frizzy.
https://urbanategirl.com/wp-content/uploads/2021/04/56rutdh.jpg
500
800
admin
https://urbanategirl.com/wp-content/uploads/2019/09/urbanategirl-logo-300x86.png
admin
2021-04-27 04:29:26
2021-04-27 05:23:22
The only hair care products to pack for a beach vacation this summer